Since its launch in 2007, SoundCloud has always been the go-to platform for music lovers who have the taste for music created by underground artists. Many talents have grown from this platform, including Post Malone, Billie Eilish, Kygo and Kehlani. That is the reason why people are crazy about SoundCloud. You will never know if you are listening to a future big name in the music industry. Plus, there are millions of catchy, engaging and artsy songs that users can listen to every day without paying extra cash. In other words, more reasons to download SoundCloud app. So, what is underground music? Where can you download SoundCloud? Follow these simple steps if you want to find out more about this music genre and how to install the most underground-friendly music app for your phone or PC.
ABOUT SOUNDCLOUD
SoundCloud was founded in 2007 by Eric Wahlforss in Germany. The platform is famous for being an exciting playground for both listeners and singers. Not many musical platforms allow every artist to publish their work freely, but SoundCloud does. Everyone who has an account can upload his/her art on the platform and take the first step in the journey of making music. So if you are a new artist, consider SoundCloud a great starting point. In 2020, SoundCloud proudly has over 272 million users and 76 million of them are active monthly. You can enjoy listening to music on SoundCloud with your phone or laptop since the app is available on both devices.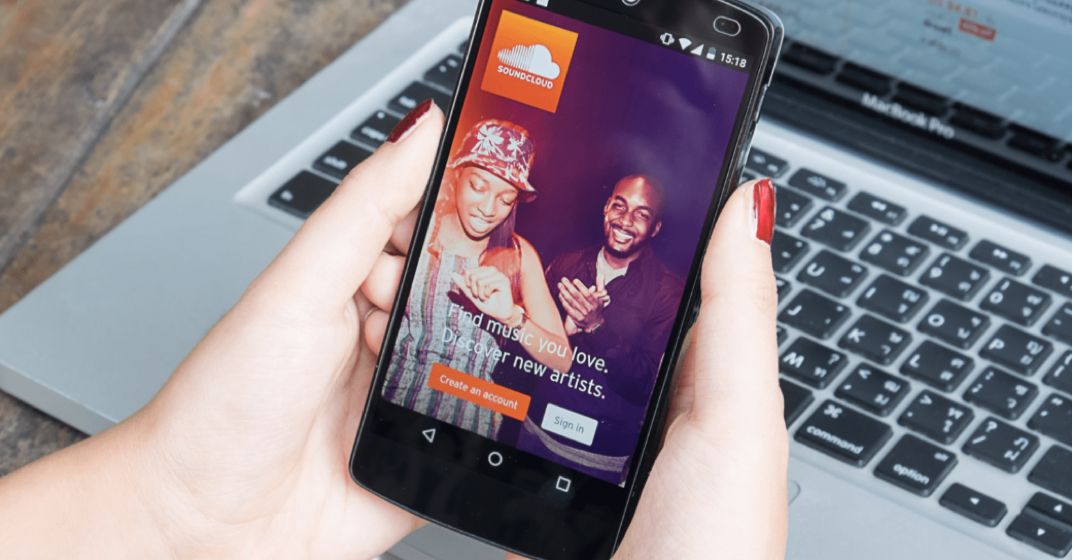 DOWNLOAD SOUNDCLOUD FOR SMARTPHONES
People who own a smartphone can easily download the app without having any problem. For Androids, the app is available to download from CH Play (Google Play). For iOS, SoundCloud is available on App Store. Follow these simple steps if you want to download the app for your phone.
If you have an Android and you want to install the app from a PC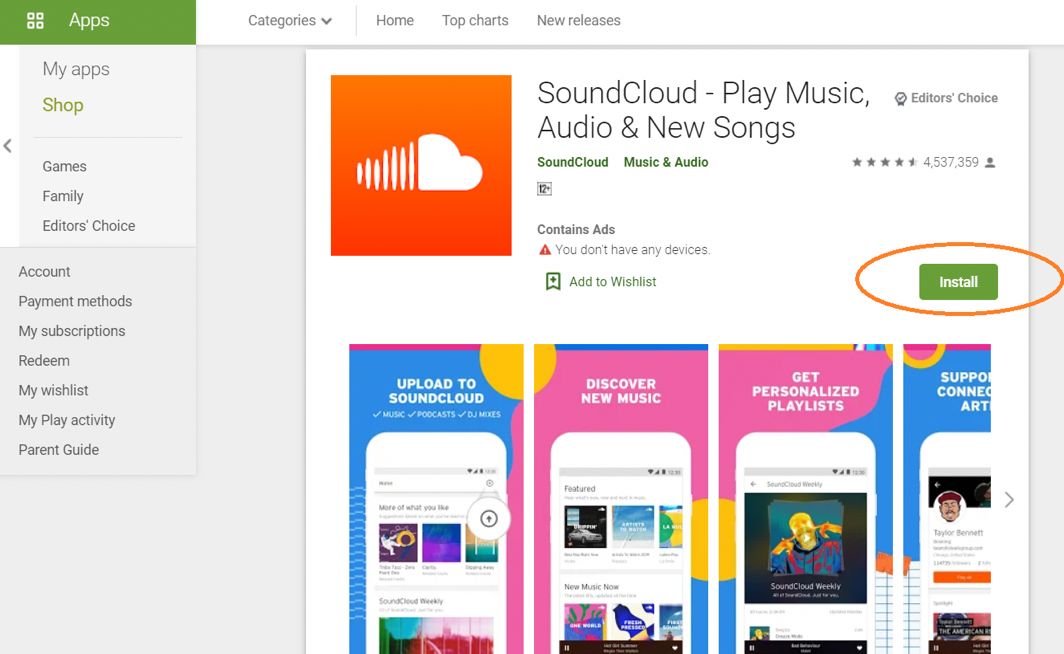 Step 1: Make a Google Account by going to Gmail and click on Create an Account. This account gives you free access to Google Play, YouTube, Facebook and of course, SoundCloud.
Step 2: Log in your account on the Google Play app with your phone.
Step 3: Log in your account of Google Play with your PC to connect the two devices together
Step 4: Go to this link and click Download. Even though you are downloading the app from a laptop or a computer, the app will appear on your phone since the two devices are linked together: https://play.google.com/store/apps/details?id=com.soundcloud.android&hl=es&raii=com.soundcloud.android
Step 5: Now you can enjoy tons of new songs with your Android.
If you want to download the app directly from the online store
Downloading the app directly on the phone is as easy as a pie. The only requirement is that the users must have an account linked to the store. Android users log in with Google account, IPhone users log in with Apple ID.
After logging into the digital store with your account, all you need to do is search for the app´s name on the search bar, click on the SoundCloud app, then download it on your phone.
In the case of Apple´s users, you will have to confirm that you want to install the app by writing down your Apple ID´s password or use your fingerprint to verify the download.
DOWNLOAD SOUNDCLOUD FOR PC
The company has been trying to release a PC version that lives up to smartphone´s version. Now, the app is available to download on Microsoft Store. This version is called SoundCloud for Windows [Beta] and it has the basic features of the original mobile version. However, users have given feedbacks about the app and it is clear that it needs improvement. It is said that the app doesn´t have the replay function and it doesn´t run as smoothly as the version of the web or the phone. SoundCloud is currently adaptable for devices that run on Windows 10. If you want to give it a go, visit the direction of the app in Microsoft Store and download it. It can meet everyone´s basic needs.
https://www.microsoft.com/en-us/p/soundcloud-for-windows-beta/9nvjbt29b36l#activetab=pivot:overviewtab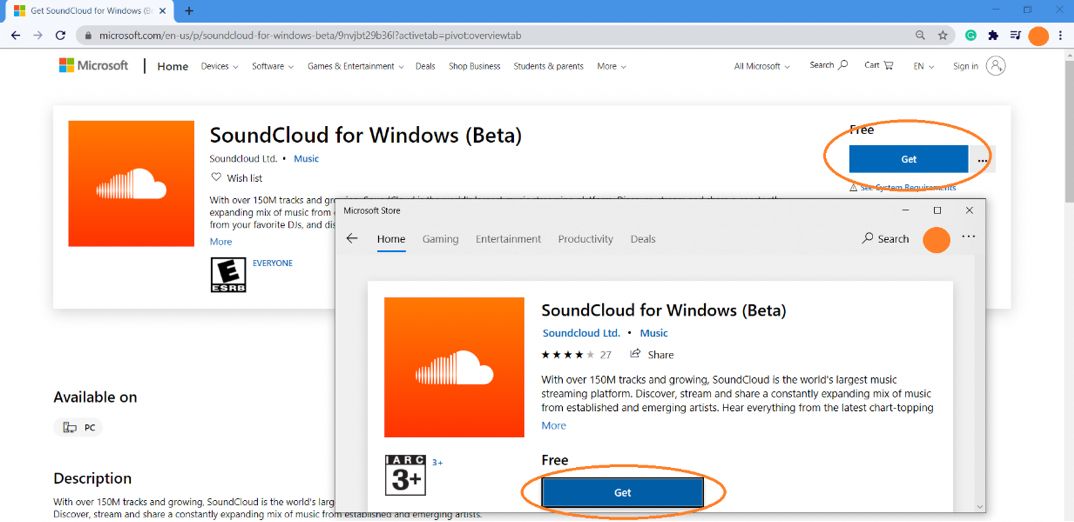 Follow these steps to install the application for PC:
Step 1: Create a Microsoft account
Step 2: Log in the Microsoft Store from a browser or from the app itself on your computer. To find the Microsoft Store app on your computer, click Start and you will find it in the right sector of the pop-up panel.
Step 3: Search "SoundCloud" and download the app from the Store
THE BEAUTY OF UNDERGROUND MUSIC
Underground music is composed by singers or bands that record their own songs and maybe even hold their own tours. They run their own business or they work with small-scale producers. These artists aren´t backed up by big-shot labels like Interscope Records or Universal Music Group, and they have to promote themselves.
But the undeniable beauty of underground music is that it is very personal, creative and it is not restricted by any ideology that a label follows. The artists own their minds and words. This genre is famous for its freedom of crafting and presenting. Singers can decide to create art that is out of the box, quirky or faithful to the mainstream.
Underground music is a crucial part of the world that SoundCloud has built. The platform´s users show great attention toward new artists and believe that these singers/ songwriters deserve to be on Billboard. So, if you want to be a part of the new waves and support up-rising talents, SoundCloud is the place to be.
CONCLUSION
It is essential to have music in your daily life. The magic that it brings can wash away all the stress and negative feelings. And it is even better finding out new life forms and new perspectives form songs. So don´t hesitate and install SoundCloud now. It is very easy to download the app for your phone or PC. You can even enjoy it online with SoundCloud official website. Push the limit with SoundCloud´s new performers.